House of Schnitzel
Here at the Capalaba Tavern we have introduced the House of Schnitzel. Whether you like yours plain or with a topping, we've set out to make the finest Australia can find.
Generously cut from premium meat, lightly tenderised, coated with flour, beaten eggs and breadcrumbs and cooked to order, with passion and care. We only use premium Australian chicken, hormone and antibiotic free. And high grade, tender portions of Australian beef and pork. Your only task is in choosing between a traditional Schnitzel or one of our sensational, schnit-a-licious toppings. Capalaba Tavern has 29 different toppers to chose from whether you're a meat or seafood food lover there is something for everyone.
So come down and try one. At House of Schnitzel, we've got Schnitzels covered!
Bistro Trading Hours

Lunch
Mon - Thu
11:30am - 2pm
Lunch
Sat - Sun, Fri
11:30am - 2:30pm
Dinner
Every Day
5:30pm - 8:30pm
Meal Deals and Dining Specials
Thursday 25th December 2014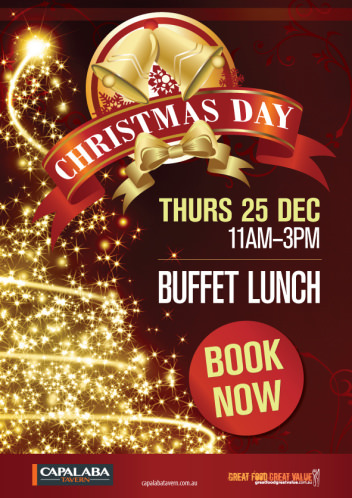 Book Now For Christmas Day Lunch
Celebrate Christmas Day the right way!
Don't worry about the stress of cooking Christmas Lunch for the whole family. We will be serving up a delectable buffet luncheon consisting of fresh seafood , cold & hot meats, salads, roast vegetables and Christmas themed desserts. essential
So come down and let us prepare you a mouth-watering Christmas fare... plus, a very special visit from Santa Claus himself!
Bookings essential
Adults - $79
Seniors - $70
Kids (5-12yrs) - $29
Kids under 5 eat FREE
11am - 3pm
Starts Fri 23rd January
Ends Mon 26th January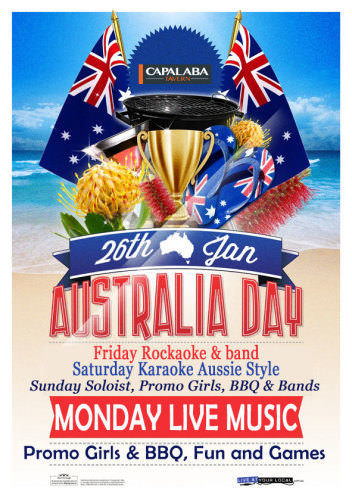 Australia Day Long Weekend
Come and join us for this Australia Day We have your long weekend covered!
Friday - Rockaoke - Live band Karaoke Starts from 8pm
Saturday - Karaoke - Aussie Style - bring you flannies and your pluggers and sing the night away. From 9pm
Sunday - Soloist on the deck from 1pm, promo girls, BBQ, and In the PM come and see the round of rock bands with 5 different local bands all performing in the Sports Bar.
Monday - Time to celebrate Australia Day - Live music on the deck, BBQ, Promo Girls and fun and games to celebrate the day.
18+ Only - Photo ID required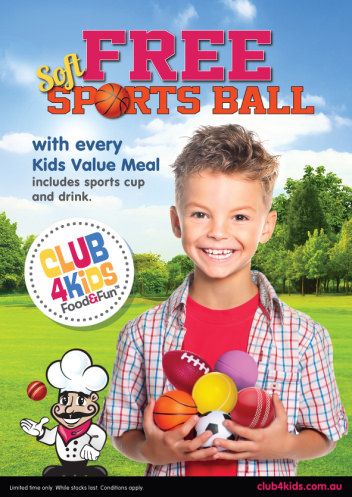 JANUARY SCHOOL HOLIDAY GIVEAWAY!
We've got something special for the kids these summer school holidays!
Bring the kids in this January and receive a FREE soft kid's sports ball with every Kids Value Meal purchased.
Kids Value Meal includes Kids Meal, Sports Cup and drink. Limited time only. While stocks last.
Saturday 14th February 2015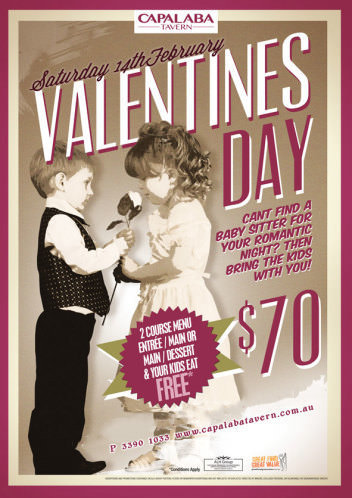 Valentines Day
Can't find a baby sitter for your romantic night? Don't miss Valentines Day! We want you to be able to celebrate the day so bring the kids with you.
Set menu
Entrée and main
Or
Main and Dessert

$70 and your kids eat FREE!!!
Conditions apply. $70 per couple: kids meal free with every main meal. See staff for details.
Monday to Friday lunchtimes
$5 OFF for Lunch
Looking for a great value lunch? Get $5 OFF for Lunch here at Capalaba from Monday – Friday.
Mon – Thurs 11.30am – 2pm
Friday 11.30am – 2.30pm
Select any Main Meal, Schnitzel, or Premium Char-Grilled Steak and get $5 OFF the menu price for lunch! Now that's great value!
Conditions apply. Purchase from Main Meal, Schnit-a-licious, Premium char-grilled steaks menus. Not available with any other offer. May not be available on public holidays. See staff for details.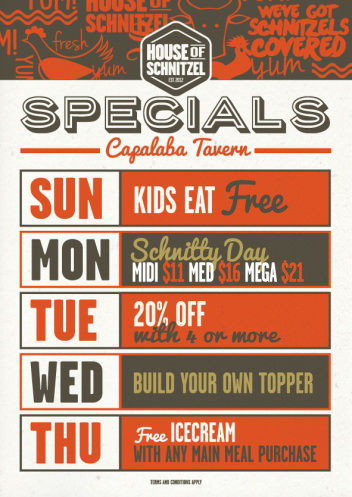 Weekly Lunch & Dinner Specials
Looking for a cheap night out for the family?
At the House Of Schnitzel Capalaba we've got you covered.
Terms and conditions apply. Not available with any other offer and may not be available on public holidays. Please ask a staff member for details.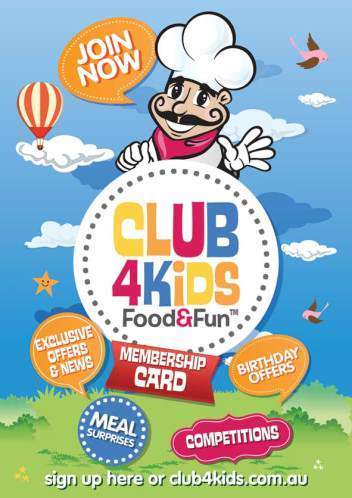 Club 4 Kids - Food and Fun
Club 4 Kids recognises that eating out can be a very special occasion for the younger family members - an opportunity to try new food and have fun in a family-friendly environment.
As an added bonus, Club 4 Kids members are treated to:
a free gift with every Kids meal purchased
the chance to enter the monthly in-venue prize draws
plus special birthday treats and exclusive news & offers as emailed from time-to-time
Join online today or complete an application form next time you're in venue.
Membership only available to kids under 12 years of age with parental/guardian consent. Membership card must be presented to staff when purchasing a Kids Meal. Not available with 'Kids Eat Free' offers. Entry to monthly prize-draw is available once 5 Kids Meals have been purchased.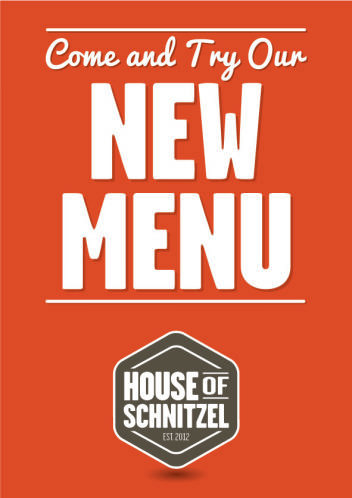 House Of Schnitzel – New Menu
The House Of Schnitzel Capalaba has a NEW menu!
Try one of 36 schnitzel toppers. With 13 new toppers added we've got Schnitzels covered!
Conditions apply. Not available with any other offer. May not be available on public holidays. See staff for details.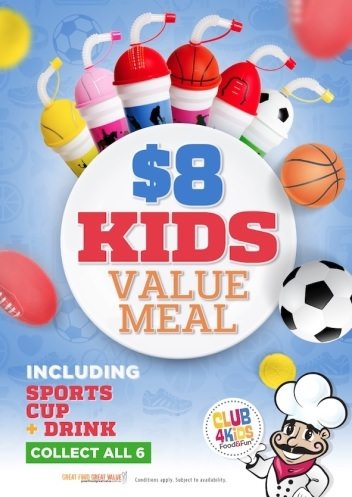 $8 Kids Value Meal including Sports Cup & Drink
For just $8 you will receive a kids meal and a sports cup filled with soft drink or juice!
So get the family together for lunch or dinner at participating locations and leave the cooking and washing up at home!
Conditions apply. Subject to availability. See staff for details.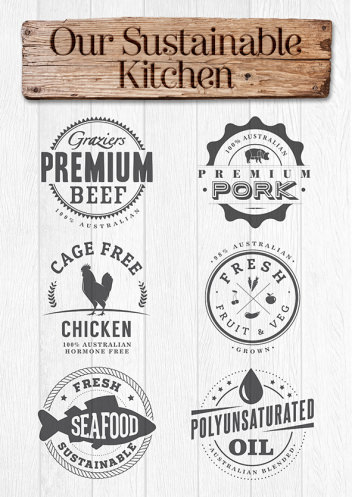 Our Sustainable Kitchen
We have made a commitment to serve:
100% Australian beef which is fresh and chilled, never frozen
100% Australian chicken, hormone and antibiotic free, fresh and from cage-free farms
100% Australian fresh seafood from sustainable fish stocks
Sow Stall free pork that is also hormone and antibiotic free
98% Australian grown fresh fruit and vegetables
We are passionate about food and how it arrives on your plate.